I spit on Rock Radio and their
reader-submitted list
of the best drummers of the last 25 years. Joey Jordison is a fine drummer, but the best of the past 25 years?! 25 years is a long time! Maybe it's tainted by the fact that the band he drums for is a raging shitshow, but I find it hard to believe that nobody could think of a better drummer than this guy over the past 25 years.
I can. Here are 10 that didn't appear on their list and deserve a spot among legends. A few worthy names appeared on their selection, but I'm not going to be mentioning them here because, well...they're already there.
1. Zach Hill(Hella, Wavves, every band that has ever existed)
Zach Hill is the definitely the best drummer of the last 10 years, probably the best drummer of the last 25 years and maybe even the best drummer since Keith Moon. Hill hits the drums with a mania and precision that can only be compared to the Loon himself, and he plays with all the force of an avalanche, as if to silence those who would call him all show. His sheer speed would be enough to make anyone do a double take, but its his ability to make every hit instill the song with an electrical dynamism that truly puts him a cut above. There's a reason that he plays in so many bands: He has the energy of 80 men, and the focus and dedication of a scholar. His intensity knows no bounds and his skill knowns no comparison.
2.Thomas Pridgen(The Mars Volta)
What Jon Theodore, the Mars Volta's first drummer, had in precision, he lacked in groove. Thomas Pridgen, with his gospel-influenced rumble, proved to be just what the doctor ordered as the Mars Volta head into a more soulful, if no less crazed, period. Quick as a whip and as versatile as they come, Theodore can switch time signatures on a dime and provide drumlines and improvisations that can be called nothing less than explosive. He folds himself into the sound of the group with such complexity that you may forget he's there, but take a moment to find him and you'll realize he's pulling tricks that could almost be called inhuman. Jon Theodore mixes the drive of funk drumming with the dexterity and swiftness of prog drumming, and for that the world can't thank him enough for being a breath of fresh air.
3. Pat Mastelotto(King Crimson, Mr. Mister)
It takes balls of steel to be an equal rhythm presence in a band with two drummers, and they're probably made out of Panzer tank parts if that other drummer is prog legend Bill Bruford. In 1995, that band was King Crimson and that man was Pat Mastelotto, proving that he could set and match any challenge that the illustrious, and notoriously musically complex, band could throw at him. But Mastelotto's true gift lies in his versatility, session drumming for prog groups like the Flower Kings as well as '80s pop bands such as XTC, Eddie Money and Hall and Oates. Many drummers can be phenomenal on a technical level, but it takes a true master to be able to conform and change to any style that the music demands of you, and for his chameleonesque musical abilities, Pat Mastelotto remains one of the most underrated drummers of the past generation.
4. Bryan Devendorf(The National)
One of the least well-known names in one of the most talked about bands right now, Bryan Devendorf is a force to be reckoned with. He is minimalistic, in the sense that he only plays when the song requires it of him, but each drum stroke takes on a significance that can stand head and shoulders above the rest of the composition. Every thump has a weight to it that not only fills the song, but pushes it forward. What's even rarer than a drummer with such presence is a drummer that manages to be so clean with each forceful strike: His drumming subtracts anything that is not needed within the song with its force and adds a level of clarity with its precision. Devendorf knows not only how to fit his drum playing within the song, but how to lift it higher, which is a rare skill indeed.
5. Brad Wilk(Rage Against the Machine, Audioslave)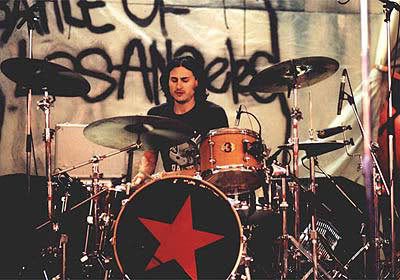 Brad Wilk understands that a strong groove is at least as important as technical proficiency, especially when dealing with a group like Rage Against the Machine. Though seemingly the most innocuous of the group from a musicianship standpoint at first, Wilk provides all the rumble and crunch needed to propel the songs forward without getting in the way of the band's ferocious frontmen, Zach de la Rocha and Tom Morello. If that sounds like a back handed compliment then it certainly isn't meant as one, as Wilk and bassist Tom Commerford provide a funky, powerful rhythm section without which their flashier bandmates would not have a leg to stand on. De la Rocha and Morello are the lightning of the group, but Wilk is without question the thunder.
Five more tomorrow.
-CJ